GUNAI MX02S 1000W 26'' Fat Tire Electric Bike with 48V 17Ah Removable Battery
€1.399,00 EUR
€1.599,00 EUR
Duty Free & Free Shipping
Delivery area:
Germany, Spain, Italy, Netherlands, Austria, Czech Republic, Greece, Belgium, Denmark, Portugal, Sweden, Finland, Slovakia, Slovenia, Luxembourg, Poland, Hungary, Ireland, Estonia, Latvia, Romania, Bulgaria, Lithuania, Croatia

Note:
Islands are not within our delivery range.
If the ordered product is not within the scope of transportation, a 5% fee will be deducted for the refund, please check clearly.
| | |
| --- | --- |
| Parameter name |  value |
| Tire specifications |  26X4.0 inch |
| Motor Power |  48V 1000W |
| Maximum speed |  40 km/h |
| Battery capacity |  48V 17Ah |
| Riding distance |  35-55 km |
| Package dimensions |  156*34*80 CM |
| Package weight |  36 KG |
| Net weight |  27 KG |
| Weight capacity |  150 KG  |
| Brake type | Front and rear XOD hydraulic disc brakes |
| Transmission brand and specifications | Shimano, TX55/21 speed pull |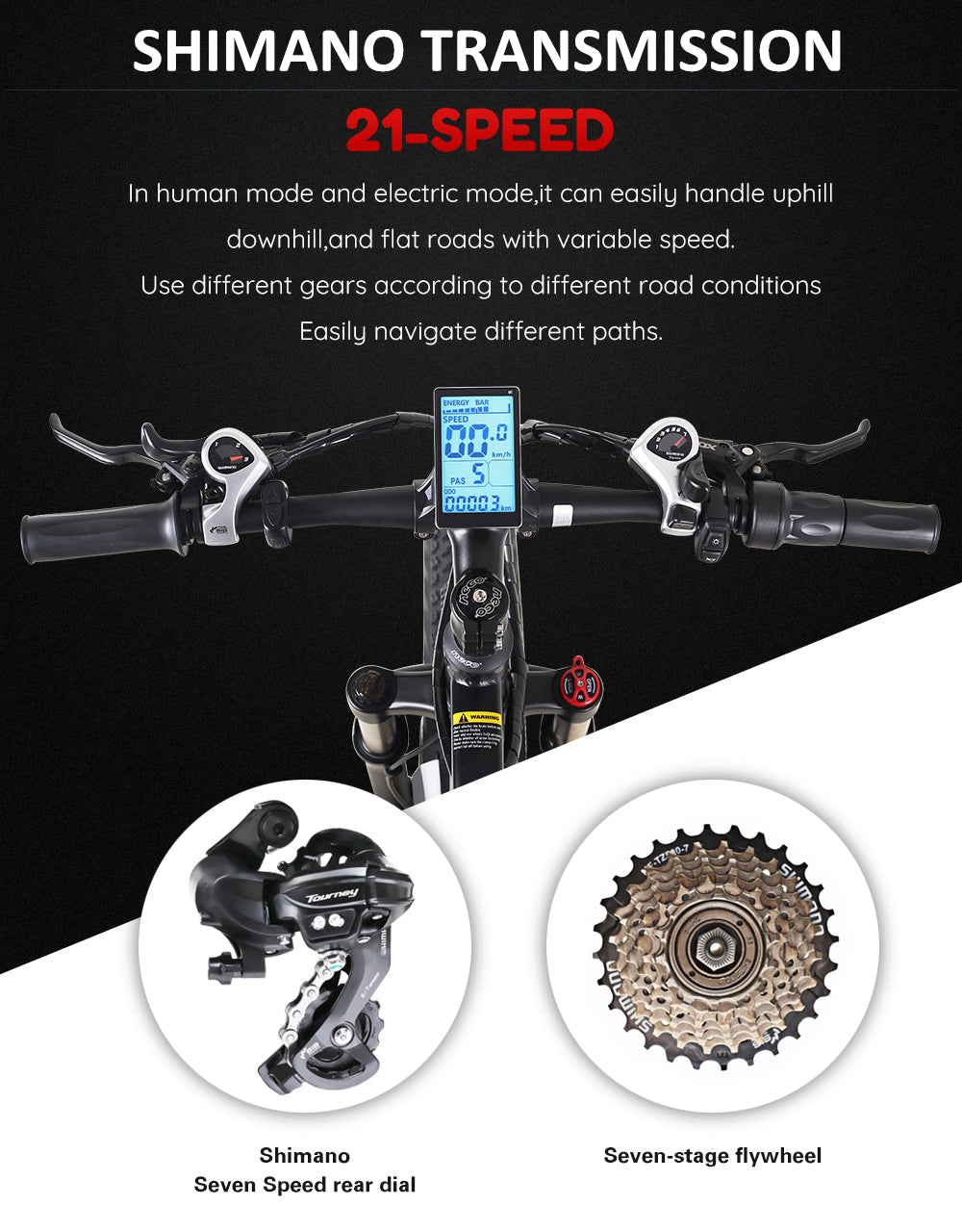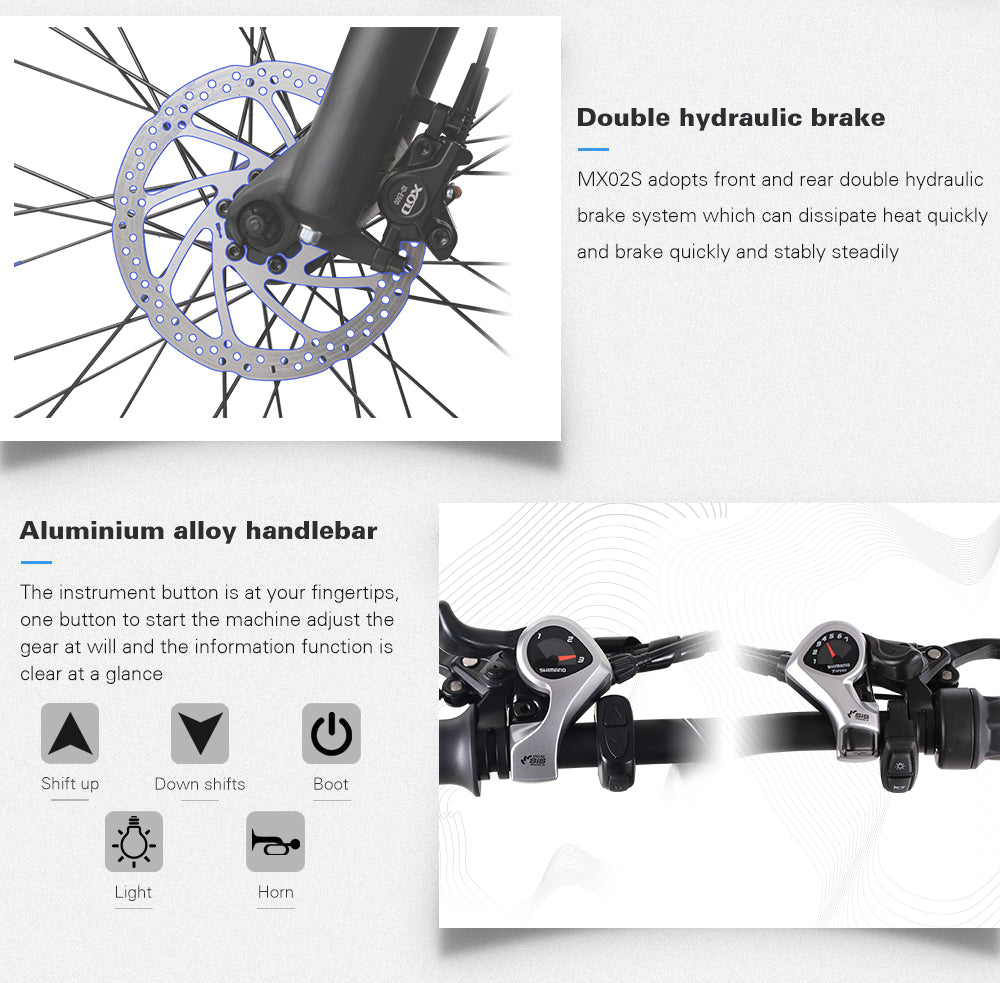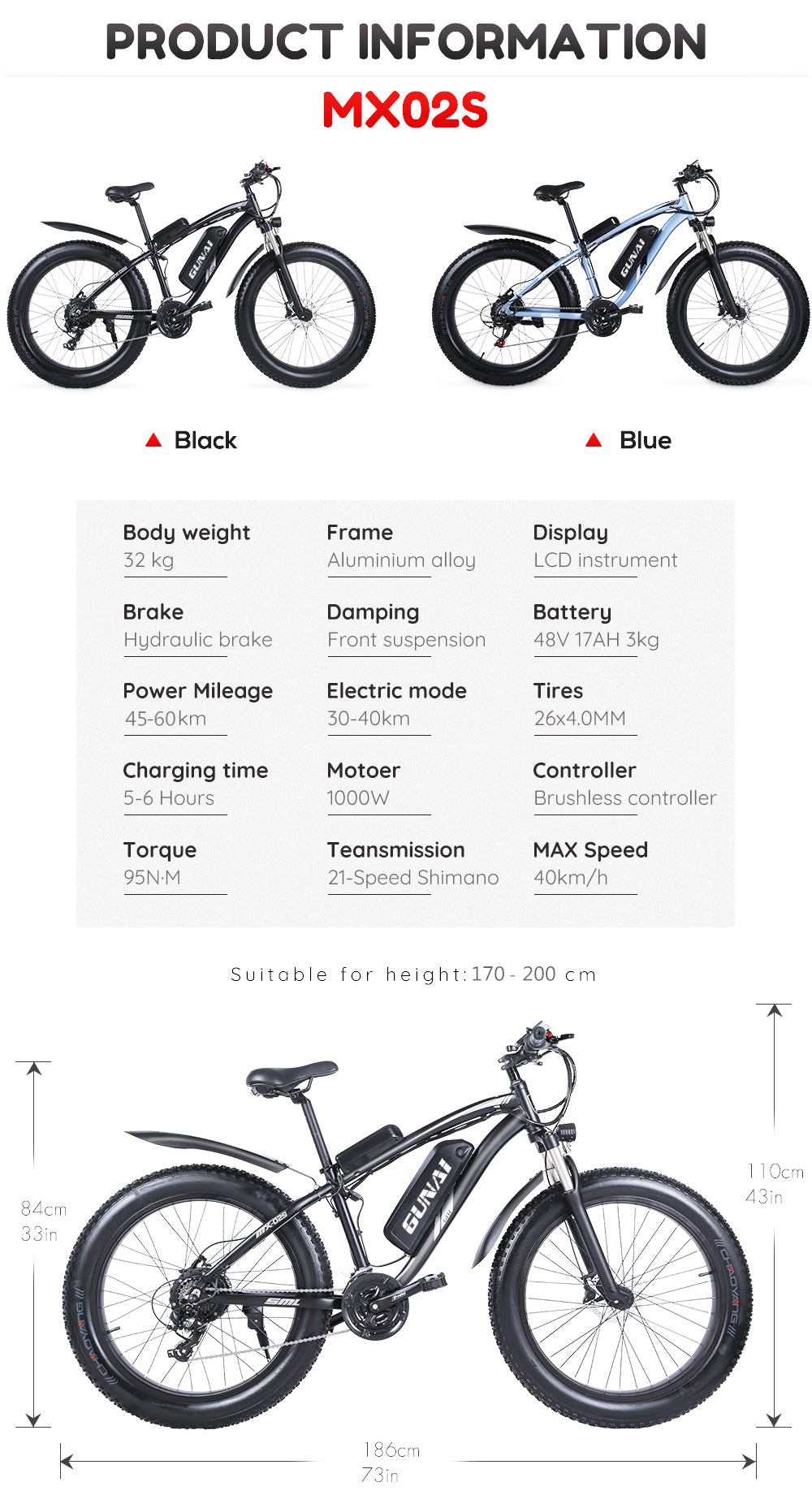 just right for my needs
I needed a bike for getting to work and for checking on livestock across open fields. My commute is not far, just 5kms but up and down very steep hills. 75% of is on rough roads or tracks, and 25% on open fields. Had the bike just over a year, have done over 2000kms without a problem. I use the electric motor as an assist to pedalling rather than just using the electric alone. I get 120kms+ per charge, though this depends on power usage. I use the bike in heavy rain, snow and ice, and hot weather (30c), and not had a problem. However I have uprated the brake pads and are planning to change a few things about the bike.
The saddle is uncomfortable but yet to find a better alternative. I also need the handlebar to be higher and nearer to me, so looking for an after-market item to resolve this as the item on the bike cannot really be adjusted. The rear light ideally should be wired into the bike battery as per the front one as its battery does not last long.
Overall a heavy but good bike for off-road use, but not ideal for just road work. The battery and motor have not given me any issues, the power is great though I tend to only use levels 1 to 3 as 4 and 5 are not practical for my needs. Tyres are still good, only one puncture so far. You will need to keep the chain and gears well lubricated.
Very pleased with the bike and it does exactly what I wanted. Would recommend.
Perfect contact and perfect product
A very good and efficient contact with the team. The bikes have been delivered on time. Will do it again if needed.
Top Bike
Wat een geweldige fiets, wat een power, rijdt als een trein